Cabin 10172 is located in the aft of the Norwegian Star. They've color coded the doors on the starboard and port side so you always know which side of the ship your cabin is on, which is really helpful in a ship of Norwegian Star's size. I can't even remember which side the cabin was on. I just know we have a blue door (as opposed to a red door, which is the color of the doors on the opposite side).
Pictured below is a small seating area which leads to the balcony. The settee converts into a bed for a third (or fourth?) person. But it is quite pleasant to sit in the afternoon to read and look at the inside passage scenery.
There is a mirrored headboard and ample storage in the closet (and under the bed).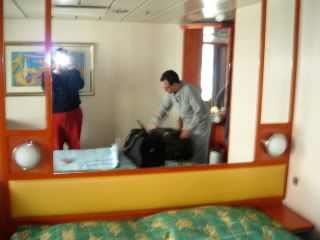 I'm not loving the frayed linen! They did turn down the bed every night so I didn't really see that thing much.
Here's a tip: there's a dial at the door that tells the cabin attendant when to

make up room

,

turn down cabin

or

do not disturb

. It's easy to miss because it looks like it's just the cabin number plate.
View of the inside passage from the settee: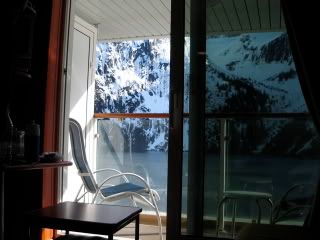 The bathroom is well laid out. I just wish they had a medicine cabinet-type mirror above the sink for extra storage. It's good that the shower and the commode has a sliding door. It doesn't feel so cramped (until you actually sit in the toilet!). The wood paneling is also a nice touch. Almost like taking a dump in a library - makes you feel naughty dun't it? (click to enlarge)
I brought some reading material which I tried to go through during the trip (and not just in the toilet, mind you!). I'm re-reading Edith Hamilton's Mythology which is fascinating!
To read more about this cruise,
click here
.