San Francisco Dine about Town.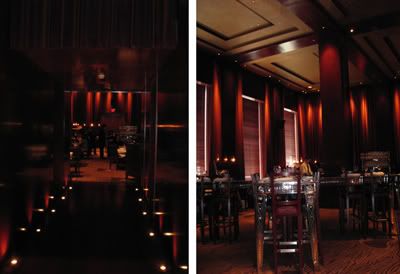 Sneaked into San Francisco a couple of weeks ago for a
bienvenida
(welcome) and
despedida
(bon voyage) party for a recently married friend who is moving to Singapore.
It also happened to be "Dine About Town" season in the city (the L.A. version is called dineLA). For a week or two, all the best restaurants bring out a 3 course prix-fixe menu for lunch ($21.95) or dinner ($31.95). So, if you've always wanted to sample great cuisine but was held back by your wallet, this is a great time to do it. They are doing this again in June (see www.onlyinsanfrancisco.com/dineabouttown
).
Asia De Cuba San Francisco is installed in the Clift Hotel, San Francisco (owned by Ian Schrager). It's celebrated for its "innovative" blend of Latin and Asian cuisine (
Hello! So is FILIPINO food!
). The entrance was very lush and dramatic (and this was only lunch). They have this venetian glass table grouping in the center surrounded by banquettes.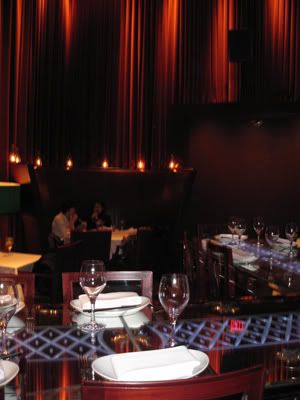 I was accompanied by my two BFF's, Cel and Carmen (aka La Manchada and La Pequeña - but that's another blog entry).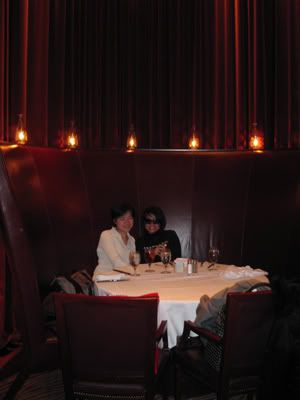 So, the prix-fixe lunch was served in bento boxes (except for the lobster sandwich). Cel and Carmen had the chipotle beef.
In the box, clockwise from top left, Opera Cake with Caramel Sauce (dessert), Fried Rice with Plantains, Crab Croquetas and Chipotle beef: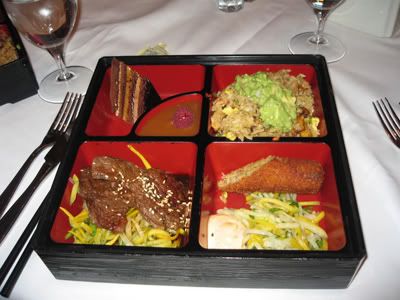 My box had essentially the same stuff, but I had Chicken Satay instead of beef: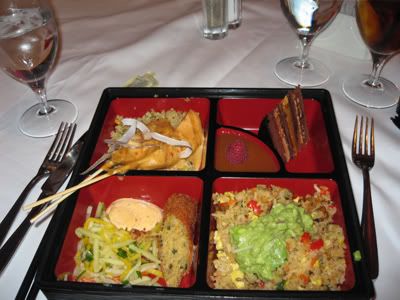 Bon Appetit!
_________________________________________________
Side Note:
I first heard of Asia de Cuba when it was at the Morgan's Hotel in New York and they've since branched out into L.A. and SF. Morgan's was the first of several boutique hotels owned by Ian Schrager and Steve Rubell (they started Studio 54). It's named after the Morgan Library which is nearby. When I stayed there in the 90's, it was one of the most private hotels in the city. So private, when my brother came to visit, he missed it since there's no sign or anything indicating it was a hotel. There really wasn't a lobby to speak of and just a stark simple hole-in-the-wall for a front desk. The bell boys were dressed in Armani. The rooms were dark and gorgeous (by Andree Putman). The bathroom had a glass conical sink and glassed-in shower. The type of place you'd go to after cosmetical surgery or if you're running away from paparazzi. Pretty much how boutique hotels look like now at a time when everything was frou-frou and chintzy. So when they installed Asia De Cuba as the hotel restaurant, it was sort of an aberration for a hotel that did not seem to want to call attention to itself.